Amplifiers & Antennas
When you take up the Weak Signal sub-hobby you need power and antennas to be heard. I will attempt to list all amplifiers past and present that you might find at a local hamfest or at Hamvention. I am only going to list amplifiers with an input levels of 5-25w and output of 75w or better.
If your browser is Firefox or Chrome please consider installing the "Imagus" addon. This will allow you to hover over pics and then they will blow up in size. This is real handy if you are a little older and our eyes are not what they used to be.
On Android or IPhone, hold your finger over a picture for 1 sec until you feel a vibration and then the pic will increase in size.
V/UHF Power Amplifiers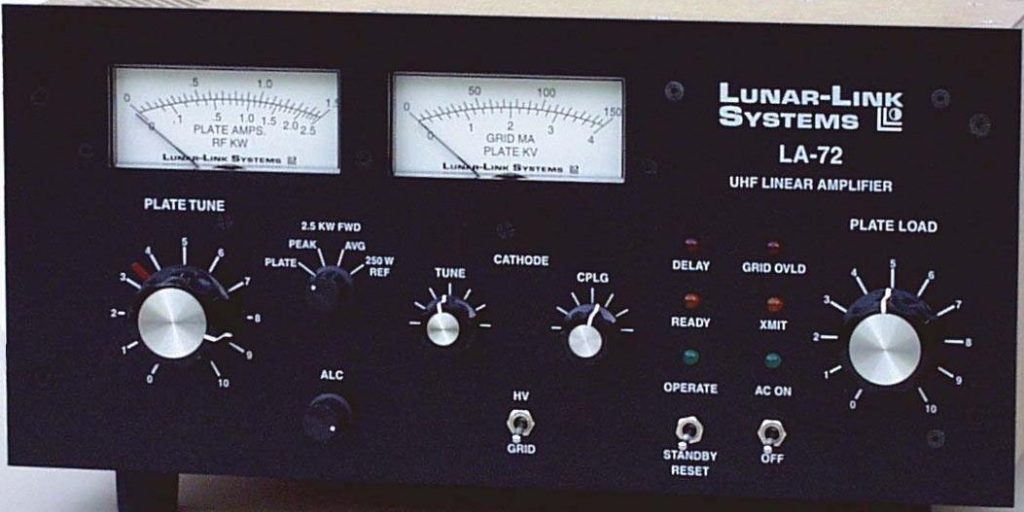 Image
Mfgr
Model#
Band
Pwr in/Pwr out
Preamp?
Current Draw
DOM
Acom
1000
HF+6
40/1000
No
Acom
1500
HF+6
40/1500
No
Alinco
EL2HC
2m
10-15w/70w>
Yes, 10db
10A@12-15vdc
198x-198x
Alinco
EL2HS
2m
10-15/110w>
Yes, 10db
18A@12-15vdc
198x-198x
Dentron
Clipperton
2m
10-25/500
No
Dentron
Clipperton
6m
10-25/500w
No
E.F. Johnson
6n2 Thunderbolt
2m/6m
5w/600w
No
1961-196x
Elecraft
KPA500
HF+6m
30-40w/500
No
Elecraft
KPA1500
HF+6
50-60w/1500w
No
2018-20xx
Heathkit
VL-1180
2m
10/80w
No
Max 10A
197x-198x
Icom
PW-1
HF+6m
100w/1000w
No
1000w/220v
500w/125v
199x-xxxx
Icom
PW-2
SO2R
HF+6m
100w/1000w
No
1000w/220v
500w/125v
2019-20xx
LA-22
1.25m
1.5kw
Lunar Link
LA-72
70cm
1.5kw
Mirage
1015-G
6m
.25-8w/150w
Yes
20db
22A@12-15vdc
Mirage
B-310-G
2m
.25-8w/100w
Yes
15A@12-15vdc
19xx-19xx
Mirage
B-320-G
2m
.25-50w/200w
Yes
25A@12-15vdc
20xx-201x
Mirage
B-1016-G
2m
10w/160w
Yes
?@12-15vdc
19xx-19xx
Mirage
B-1018-G
2m
.25-12w/160w
Yes
14db
30A@12-15vdc
19xx-20xx
Mirage
B-1030-G
2m
1-10w/300w
50% Duty Cycle
Yes
18db
50A@13.8vdc
19xx-20xx
Mirage
Mirage
TE Systems
0510G
6m
10/170
18db
25A@13.8vdc
TE Systems
0550G
6m
5-10/375
18db
59A13.8vdc
TE Systems
05612g
6m
20/600
18db
32A@28vdc
TE Systems
1410G
2m
4-10/170
18db
27A@13.8vdc
TE Systems
1412G
2m
25-50/160-200
18db
22A@13.8vdc
TE Systems
1450G
2m
5-10/350
18db
56A@13.8vdc
TE Systems
14612G
2m
20/600
18db
32A@28vdc
TE Systems
2210G
1.25m
4-10/130
18db
20A@13.8vdc
TE Systems
2212G
1.25m
25-45/135
18db
16A@13.8vdc
TE Systems
2250G
1.25m
5-10/225
18db
40A@13.8vdc
TE Systems
2252G
1.25m
10-20/225
18db
36A@13.8vdc
TE Systems
22612G
1.25G
20/500
18db
28A@28vdc
TE Systems
4410G
70cm
10/100
18db
19A@13.8vdc
TE Systems
4412G
70cm
15-20/100
18db
19A@13.8vdc
TE Systems
4452G
70cm
5-10/180
18db
35A@13.8vdc
TE Systems
44612G
70cm
20/300
18db
16A@28vdc
HF Amplifiers with 6m
| | | | | | | | | |
| --- | --- | --- | --- | --- | --- | --- | --- | --- |
| Image | Mfgr | Band | Model | Pin | Pout | Current | DOM | |
| | | | | | | | | |
| | | | | | | | | |
| | | | | | | | | |
| | | | | | | | | |
| | | | | | | | | |
| | | | | | | | | |
| | | | | | | | | |
| | | | | | | | | |
| | | | | | | | | |
| | | | | | | | | |
| | | | | | | | | |
| | | | | | | | | |
| | | | | | | | | |
| | | | | | | | | |
| | | | | | | | | |
| | | | | | | | | |
| | | | | | | | | |
| | | | | | | | | |
| | | | | | | | | |
| | | | | | | | | |
| | | | | | | | | |
| | | | | | | | | |
| | | | | | | | | |
| | | | | | | | | |
| | | | | | | | | |
| | | | | | | | | |
| | | | | | | | | |
| | | | | | | | | |
| | | | | | | | | |
| | | | | | | | | |
| | | | | | | | | |
| | | | | | | | | |
| | | | | | | | | |
| | | | | | | | | |
| | | | | | | | | |
| | | | | | | | | |
| | | | | | | | | |
| | | | | | | | | |
| | | | | | | | | |
| | | | | | | | | |
| | | | | | | | | |
| | | | | | | | | |
| | | | | | | | | |
| | | | | | | | | |
| | | | | | | | | |
| | | | | | | | | |
| | | | | | | | | |
| | | | | | | | | |
| | | | | | | | | |
| | | | | | | | | |
| | | | | | | | | |
| | | | | | | | | |
| | | | | | | | | |
| | | | | | | | | |
| | | | | | | | | |
| | | | | | | | | |
| | | | | | | | | |
| | | | | | | | | |
| | | | | | | | | |